Pictures of the 70's Westfalia
Storage box / Camping Stool
Karl from the type2 list sent me these pics and had this to say about the stools.
"Be warned that there are 2 different ones. The difference is in the height. 74-76 is 11 1/2" tall. 77-79 is 14 1/4" tall. The reason is: 77-79 seats sit taller because the passenger seat swivels. The correct box will be the same level as the seats. Both boxes have the same side dimensions: 11 1/2" x 13". Good luck finding one with the original yellow plastic covered trash can!"
Richard Atwell sent me this exploded diagram of a westy stool. Thanks, Richard.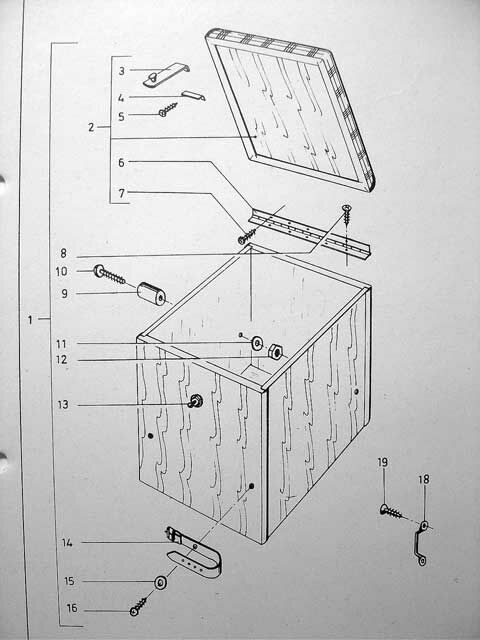 Ron Wolff, sent the photos of the yellow plastic trashcan, and had this to say about the dimensions:
Height (w/lid on) 11 1/4"
Diameter 10 1/4"
Black handle at top: 3/4" wide with 4 'grooves' for your fingers.
Handle length (if spread out): approx 17-18"
Click HERE for some pics I took of the stool from my camper
Below is a pic of what the camping stool should look like installed in a late baywindow westfalia.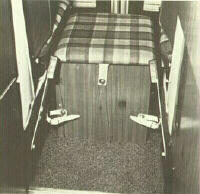 ---
This page has been viewed 33,167 times (2 today)
Last updated 01/27/2008
Copyright &copy 1998-2008 GreenMonster Computer Associates. All rights reserved.
Volkswagen is a registered trademark in the United States and other countries. GreenMonster Computer Associates, is not affiliated with, nor connected in any fashion with Volkswagen United States, Volkswagenwerk AG, Germany, nor any of it's established affiliates, dealers or subsidiaries. The use of "Volkswagen" and it's models on this webpage is for purely descriptive purposes only.