Green Monsters's Volkswagen Westfalia Camper Page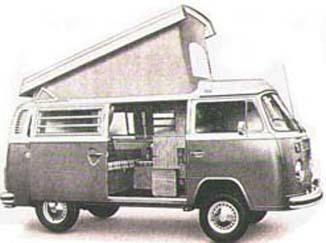 Click Here for pictures of my Bus
In my search for a Westfalia camper, I have found several web based resources that might be useful to others. I used these internet resources in my search for a camper, but found mine the old fashioned way, in the local newspaper.
Click on the links below or get more info on my Volkswagen Links Page.
Check out these next links before you buy a Volkswagen bus.
Richard Atwell's Website - Everything you need to know to keep your 68-79 VW Transporter running its best.
The Bus Depot's Westfalia Camper info and Buyer's Guide
Westfalia Buyer's Guide Check List

---
This page has been viewed 119,403 times (1 today)
Last updated 01/27/2008
Copyright &copy 1998-2008 GreenMonster Computer Associates. All rights reserved.
Volkswagen is a registered trademark in the United States and other countries. GreenMonster Computer Associates, is not affiliated with, nor connected in any fashion with Volkswagen United States, Volkswagenwerk AG, Germany, nor any of it's established affiliates, dealers or subsidiaries. The use of "Volkswagen" and it's models on this webpage is for purely descriptive purposes only.